One of the pleasures and privileges since the publication of Abby's book has been the opportunity to speak to and meet women—and men—in all kinds of settings, about topics that matter to her. Below is a partial list of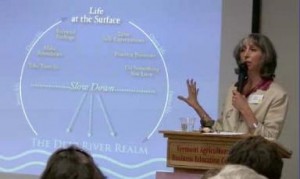 organizations, institutions, conferences and groups where she has spoken about Deep River topics. Abby's presentations usually range from one to two hours, including time for Q & A and discussion. They are always tailored to the particular audience and include practical take-away suggestions.
Topics include:
Taming the To-Do List and Finding Depth in Everyday Life
The Art of Slowing Down in a 24/7 World
Secular Time and Sacred Time in the Information Age
Living a Soulful Life in a Speed-Obsessed Culture
The Deep River in the Workplace: Tools for Work-Life Balance
Self-Care for the Caregiver
Past venues include:
American Association of University Women
Association for the Advancement of Psychosynthesis
Boston College
Boston University
Brown University
Canyon Ranch, Lenox, MA.
Christ Episcopal Church
Church of the Holy Spirit
Colby College
Connecticut College
Emerson Hospital
IBM
Jewish Family & Children Service, Boston
Kripalu Center for Yoga & Health
Lowell General Hospital
Massachusetts Conference for Women
New England Women Business Owners
New York Presbyterian Hospital
Stanford University
Temple Isaiah, Lexington, MA
University of California, Santa Barbara
University of Maine
The Vincent Club
Working Mothers Symposium
Women's Community League
Women Explore
Yale University
Young Presidents Organization
For more information: Contact Abby.