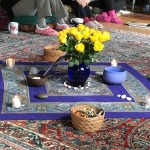 A One-Day Facilitator Training
Led by Abby Seixas, LMHC, M.Ed., creator of The Deep River Process™
October 21, 2018, 9 a.m. to 4:30 p.m.
Hadley, Massachusetts
Deep River groups have grown out of Abby's experience (and that of many others) that women in a circle of support are a source of untapped power. When this power is nurtured, it can fuel personal growth and help counter the effects of our speed-obsessed culture. This one-day training is offered to encourage the start of Deep River groups as places for women to learn how to separate themselves from the culture's drumbeat of go-go-go, and to make conscious choices about their own pace and priorities.
The day will include didactic training, discussion, experiential exercises, and some practice facilitation. Attendance at the day-long Deep River workshop on November 20, 2011, or another Deep River group is a prerequisite.
Topics covered include:
• Design of a 7-week Deep River group, and variations
• How to introduce the six core practices
• Working with the practices: guiding experiential exercises • Guidelines for creating safety and going deep
• The group 'field' and how to work with it/within it
• Balancing transparency and leadership as a facilitator
SUNDAY, OCTOBER 21, 2018, 9 a.m. to 4:30 p.m. in Hadley Massachusetts.
Helping professionals in all fields are encouraged to attend (including but not limited to: psychologists, mental health counselors, social workers, nurses, doctors, clergy, teachers, coaches). If your work falls outside of these categories and you would like to attend, please contact Abby to discuss participation.
Comments from Deep River group participants:
"The balance between exercises, learning/listening and reflection was excellent! The many, many positive effects of my "Deep River" experience continue to resonate throughout my life."
"I approached the group with skepticism and anxiety, both having vanished by the second meeting. I felt the organization and structure of the sessions were exactly enough for both comfort and learning to take place. Even if a concept wasn't new to me, the group context gave things a very different perspective, a new way to relate to the ideas…I feel so very lucky to have had this opportunity."
"You're one of the best facilitators I've ever run across – it's an art and you do it extraordinarily well. I came into the group very skeptical and somewhat apprehensive about the experience, but the assembled group of women blew me away in terms of their authenticity, hard work and warmth. They have made a believer out of me re: women's groups. No small feat…"
Cost: $250. Half price (as a 'refresher course') for DR facilitators.
Please note: The Saturday (10/20) workshop, or another Deep River course, is a prerequisite for the Facilitator Training.
CLICK HERE to REGISTER. (You will see the name "Leah Kent" at the top of the PayPal registration form. Leah is handling registration…you're in the right place!)
CLICK HERE to REGISTER for both Saturday and Sunday.

QUESTIONS: Abby@deepriverwithin.com
*From Jean Shinoda Bolen's book: Urgent Message from Mother: Gather the women, Save the World. (Conari Press, 2005)
Social Share