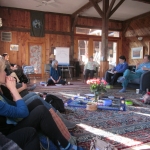 A Distance Facilitator Training via teleconference & Internet.
4 Sundays: January 29, Feb. 5, 12, & 26.
(and a pre-class on Sunday, January 22, for those who have not attended a Deep River workshop or course.)Time: 4:00-5:15 p.m. EST.
My experience (and that of many others) is that women in a circle of support are a source of untapped power. When this power is nurtured, it can fuel personal growth and help counter the effects of our speed-obsessed culture. The purpose of the Deep River Facilitator Training is to give helping professionals and others who wish to work with women, the tools and support to create Deep River groups wherever they are, around the United States and around the world.
The distance course consists of four phone calls plus interaction on a participants-only website.
All calls will be recorded (for participants only) and can be downloaded if a meeting is missed. The course will include didactic training, discussion, Q&A, and practice facilitation. All participants must have read Finding the Deep River Within, and attendance at a Deep River course or workshop is recommended. For those who have not attended a course or workshop, there will be a 5th call prior to the 4 regular calls. (See dates above.)
COST: $190 (includes Manual). $50 in addition for those attending the 5th call.
COST to Deep River Facilitators wanting a refresher: $95, or $120 for all 5 calls.
Helping professionals in all fields are encouraged to attend (including but not limited to: psychologists, mental health counselors, social workers, nurses, doctors, clergy, teachers, coaches).If your work falls outside of these categories and you would like to attend, please contact me to discuss participation.
If you are interested in participating and have questions about the training, please contact me: abby@deepriverwithin.com
TO REGISTER, CLICK HERE.
*From Jean Shinoda Bolen's book: Urgent Message from Mother: Gather the Women, Save the World. (Conari Press, 2005)
Social Share