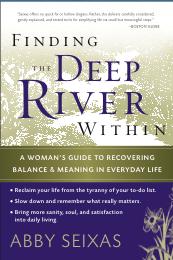 Facilitator Lee Pierce is offering a 7-week group beginning March 26 in Newton Massachusetts. You can contact Lee for more information (see below).
The Deep River Within.
A 7-week group with Lee Pierce.
Tuesday nights, March 26-May 7 from 7-9 p.m.
at the First Unitarian Society of Newton, Mass.
In this group we will be exploring the "Deep River" that can nourish each and all of us. The work is based on the book Finding the Deep River Within, by Abby Seixas. We will be spending seven meetings cooperatively delving into the practices that move us toward a balanced, embodied and naturally focused life. A vital part of the process will be the power of gathering people together in the inquiry. The decision about commitment to the full series can be made after the first meeting.
The group will be limited to 12 people. For more information and registration please contact Lee Pierce (mamaglee@gmail.com) or Fran Clancy (office@fusn.org). The book is available from the Minuteman Library or can be purchased from Lee.
Social Share