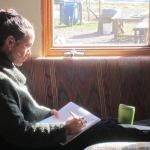 Recalibrating Where We Can Make a Difference.
with Deep River Facilitator Carol Hohle

Monday mornings, April 28, May 8 & 22.
at The Well Spirituality Center, LaGrange Park, Illinois.
Are you an empty nester? Have you left the work world recently? Perhaps you've recently retired or are thinking about it?
This workshop, filled with journaling and reflective exercises, is designed to help reimagine and recalibrate your life's purpose. The class will meet three times over six weeks (every other week) and will include homework. During class there will be time for individual reflection as well as group sharing.
Facilitator, Carol Hohle, has led dozens of courses based on the gifts of creative journaling and the art of slowing down. This class will sample some of her favorite exercises.
Cost: $45
Click here for more information.
Social Share